ALL ABOUT ANN DOKA'S NEW NASHVILLE ALBUM 2022
Eines ist sicher: Ann Doka ist durch das 'House of Change' gegangen. Durch jeden einzelnen Raum. Und es war kein Spaziergang.
Auf ihrem neuen, in der 'Music City' Nashville TN (USA) produzierten Album erzählt sie davon. Über die vielen kleinen Veränderungsprozesse, die wir jeden Tag durchlaufen genauso wie über den Mut weiterzugehen. Ann spricht über Räume, die einem vielleicht zu klein geworden sind – oder viel zu groß waren, als dass man sie je hätte füllen können. Und über die Räume, die uns dann doch zum Bleiben bewegen – ohne dass wir dabei unser Blitzen in den Augen verlieren.
HOUSE OF CHANGE ist eine Liebeserklärung an das Leben mit all ihren Facetten. Über den Wunsch nach einem kleinen Funken Sicherheit auf der einen – und der ungezähmten Neugier auf das Leben auf der anderen Seite. Denn manchmal muss man einfach mal weiterlaufen, damit sich etwas verändert.
Das neue Ann Doka Nashville Album HOUSE OF CHANGE produzierte die Künstlerin mit ihrem US-Produzenten Jonathann Rice (BullEagle Music) in Nashville, TN (USA). Schon vor dem Release wurden Songs des Albums bei den German Songwriting Awards und den AKADEMIA Awards ausgezeichnet.
Es ist ab dem 1. April 2022 über das Label NASH*DASH Records auf allen Online-Musikportalen wie Apple Music, Amazon, Spotify etc. als Download und physische CD verfügbar. Vorab erschienen bereits zwei Single- Auskopplungen des neuen Nashville Albums (ROOMS 31.12.2022 // BETTER WALK ON 18.02.2022), die bereits vorab auf großen Radiosendern wie hr1, hr3, Radio Bremen, Antenne Thüringen und vielen mehr laufen.
*   *   *   *   *   *   *   *   *   *   *   *   *   *   *   *  *   *   *   *   *   *   *   *  *   *   *   *   *   *   *   *   *   *   *   *   *   *   *   *   *   *   *   *   *   *   *   *  *   *   *   *   *   *   *   *  *   *
One thing is for sure: Ann Doka has walked through the 'House of Change'. Through every single room. And it was no walk in the park.
On her new album, produced in the 'Music City' Nashville TN (USA), she tells about it. About the many small processes of change that we go through every day as well as about the courage to move on. Ann talks about spaces that have perhaps become too small for us – or were far too big for us to ever fill. And about the spaces that then make us want to stay after all – without losing our flash in the eye.
HOUSE OF CHANGE is a declaration of love to life with all its facets. About the desire for a little spark of security on the one hand – and the untamed curiosity about life on the other. Because sometimes you just have to keep running for something to change.
The new Ann Doka Nashville album HOUSE OF CHANGE was produced by the artist with her US producer Jonathann Rice (BullEagle Music) in Nashville, TN (USA). Even before the release, songs from the album won awards at the German Songwriting Awards and the AKADEMIA Awards.
It will be available on April 1, 2022 via the label NASH*DASH Records on all online music portals like Apple Music, Amazon, Spotify etc. as download and physical CD. Two singles from the new Nashville album (ROOMS 12/31/2022 // BETTER WALK ON 02/18/2022) have already been released in advance on major radio stations such as hr1, hr3, Radio Bremen, Antenne Thüringen and many more.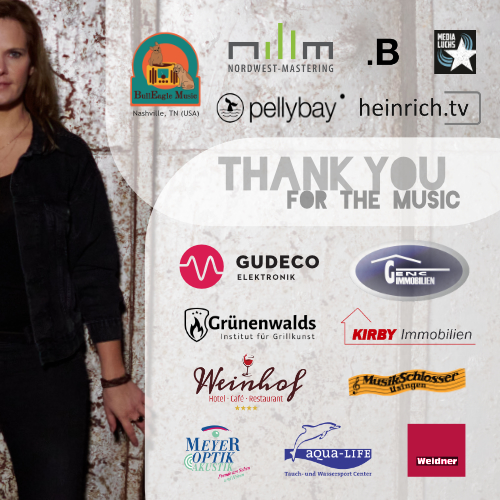 Es war eine unglaubliche Reise in den letzten 2 Jahren. Songs schreiben, in Nashville produzieren, Mixen, Mastern, vermarkten, Video drehen, CD designen, Tour planen… Ohne mein großartiges Team wäre dieses Album nicht möglich gewesen! DANKE an…
– BullEagleMusic Nashville www.bulleaglemusic.com
– Nordwest-Mastering www.nw-mastering.de
– Bernstein www.bernstein.de
– pellybay www.pellybay.de
– Medialuchs www.medialuchs.de
– Heinrich TV www.heinrich.tv
Und natürlich auch ein riesiges Dankeschön an meine Sponsoren für die unglaubliche Unterstützung! Ihr sorgt dafür, dass die Musik laut wird!
– GUDECO www.gudeco.de
– Genc Immobilien http://genchandelsgmbh.de
– Kirby Immobilien www.kirby-immobilien.de
– Grünenwalds Institut für Grillkunst https://gruenenwalds.com
– Hotel Weinhof www.hotelweinhof.de
– Aqua Life Tauch- & Wassersportcenter www.aqua-life-usingen.de
– Meyer Optik www.meyer-optik.de
– Weidner FashionShoes www.schuhe-weidner.de
– Musik Schlosser www.musik-schlosser.de